To book the Brunswick Golf Trail please call (866) 947-7434
The Brunswick Golf Trail is a collection of championship golf courses along the North Carolina Golf Coast.
Golf Course Options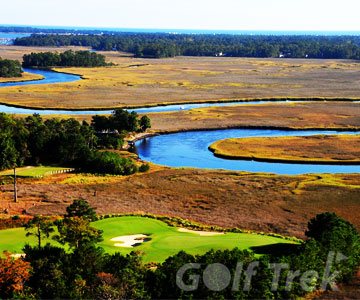 Carolina National is a 4.5 star rated Freddie Couples jewel. 5 tees to choose from on each of the 27 magnificent holes…135 tees so you can play; different tee shot from each tee. Each tee presents a different look for…
Lodging Options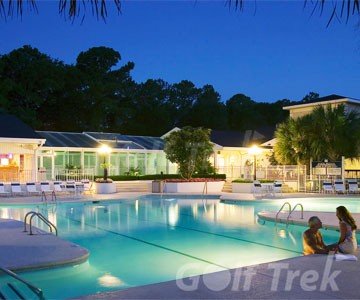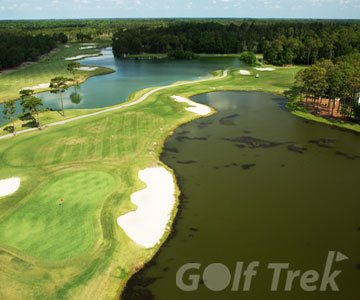 A stunning combination of natural waste areas, coquina fairway boulders, native grasses, wildflowers and elevation changes up to 60 feet make this a challenging layout. The new fast G2 bent grass undulating greens offer formidable opposition to the birdie you were hoping for. One of the top golf courses in North Carolina. A 4.5* gem. Many signature holes including an island green par 3 and the waterfall #18.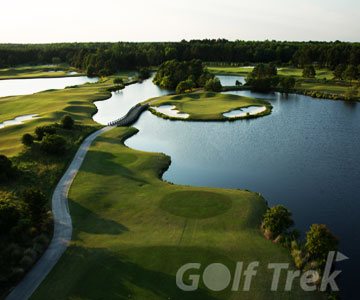 There is no other way to say it — Thistle is a "Superb" 4.5 star rated 27 hole Scottish Links course. Putt on smooth, fast undulating huge Bent grass greens. If you wander off the fairway you'll truly encounter Scotland at its best with lots of native grasses, heather and wild flowers. Pretty and challenging at the same time. The fairways are generous with lots of up and down hilly shots and mounds. You can bump and run most shots into the greens or fly them in to receptive greens. Not only are the course conditions superb but so is the course playability. Unique to the Myrtle Beach area, Thistle offers 12 minute tee times. That's the rule. By doing so, you enjoy a full hole open in front and behind you. A relaxed 4 hour round is the norm. It's like playing on your own country club. Ten tee times are blocked in the morning for a two hour period and the same is true in the afternoon. You may want to consider pre-booking an afternoon replay so you can experience the entire 27 hole layout. Exceptional conditioning and superb service along with complimentary range balls and yardage booklet exist to provide you with a truly enjoyable and memorable golf experience. There are 5 different tee boxes to choose from so you can definitely test your golfing skills at the Thistle.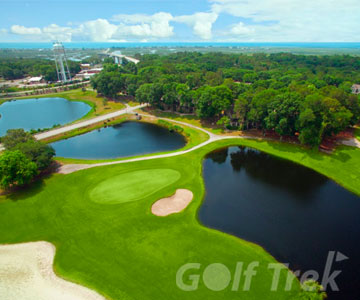 The Maples is a nice playable course. It has a separate clubhouse from Byrd and Jones course location. Heavily treed with giant oaks and hanging moss line the course. Some large tee to green waste bunkers…with…OOPs…trees in the bunkers. Medium well trapped undulating greens. Putting is key on this course with lots of subtle breaks. Don't miss the bar. Lot of bets have been settled over a tall cool one here.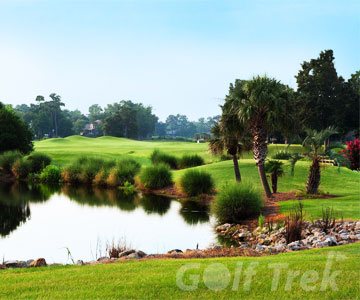 Plenty of mounding and large waste bunkers…typical Reese Jones. One of his better designs with wide fairways and average to large undulating greens. many of the greens are elevated with collection areas below. Chipping around the greens or blasting out of bunkers is at a premium here.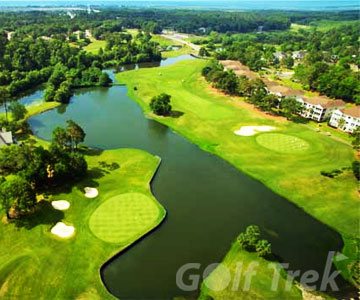 You'll remember the lakes and large undulating bent grass greens. Willard Byrd courses are known for their playability and you'll totally enjoy this course. Wide fairways, a touch of sand here and there, dogleg holes and roll it on pitch shots are all here. This 4 star rated gem is non-surcharge. Play all three Sea Trail courses at a very special rate. Nice clubhouse, 19th hole and excellent practice facilities.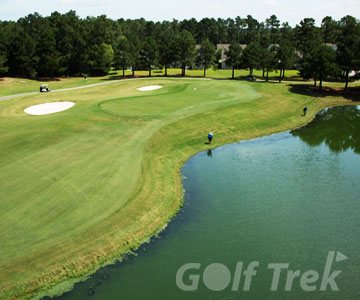 800 Sandpiper Bay Dr SW Sunset Beach, NC 28468
MapSatellite
Keyboard shortcuts map data ©2021 Google500 m Terms of Use Report a map error
Sandpiper Bay, known as one of the best groomed courses, is a four-star, 27-hole course. This newly renovated course is located just 20 minutes from Myrtle Beach in the community of Sunset Beach. The exceptional care for detail and quality is shown in the contoured fairways and natural bunkers, making Sandpiper Bay a must play.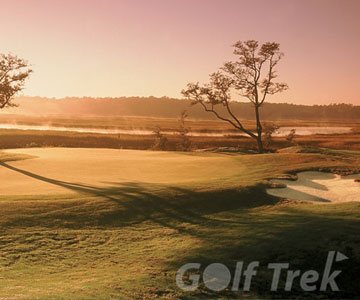 Arnold took a superb piece of land and built a superb golf course. 7 holes are on the Shallotte river and are very scenic with marsh grasses. This 4.5 star course is stunningly panoramic with dramatic elevation changes from bluffs to low lying marsh areas. Many of the holes have high risk… great chances for snowmen or eagles. A very challenging course and one of Arnold Palmer's best designs. A "must play" course for your golf lineup.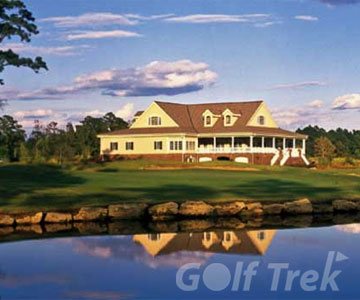 Nominated by Golf Digest as the best new course in 1996, Panthers Run has a variety of challenges. The front side is a Carolina Low Country style course with lots of water and marshes. The back side is more wide open and inspired by the ancient links of Scotland. The front is low lying whereas the back has dramatic elevation changes.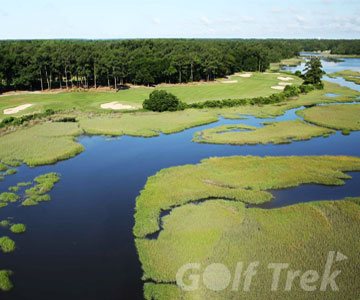 Ever played out of a 'dreaded' oyster shell bunker… Close your eyes and swing hard. Two island greens, ocean breezes and fast undulating greens make this course a real challenge. A superb 'Visual Delight.' It has been rated Golf Digest's 1983 Resort Course of the Year and has received a 4.5-star rating in Golf Digest's Places to Play publication. Many consider it to be a Top 10 Course in the Myrtle Beach area. Located 8 miles into North Carolina at Sunset Beach.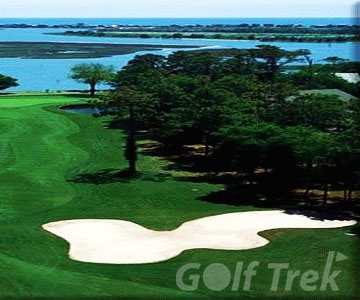 A seaside layout on the intracoastal waterway with prevailing ocean breezes. Better than average width fairways surrounded by live oaks, towering pines and dogwoods. #18 is the signature dog log right finishing hole prevailing ocean breeze blowing in your face. GolfMaster Hal had a hole in one on #11 in the Lockwood Appreciation Day Tournament. A 4 star rated gem.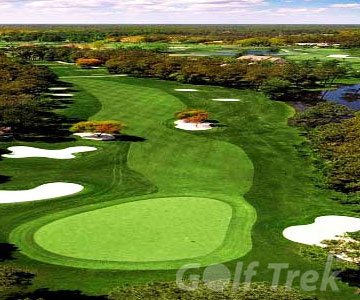 The course has Scottish links, low country marshes and highland pine trees. A widely different variety in just 18 holes. A very interesting course that you'll really enjoy playing. A thinking man's course so you need plan every shot.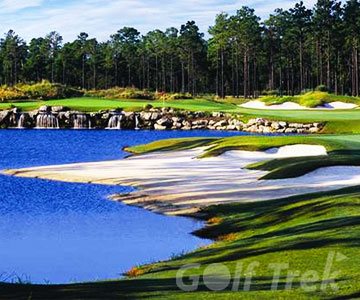 LEOPARD'S CHASE is the newest of the Big Cats family of courses. It opened for public play in February 2007. It is the premier course of the four Cats courses. This newest Cat has quickly received rave reviews for its challenging layout as designed by Tim Cate. This will soon be ranked as one of the must-play courses on the Grand Strand. Course management is the key when playing this highly regarded layout. You will find (hopefully not too often) large bunkers in just the right places. There is a lot of rolling hills feel and you will be tested with many forced carries. The 18th is a spectacular finishing hole. As you stand at the tee box, you will be faced with a 150-yard bunker on the right between the fairway and lake and a 50-yard bunker on the left between the fairway and another lake. Then, you will encounter a two-tiered pond and coquina shell-based waterfall on the short left side of the green as you approach.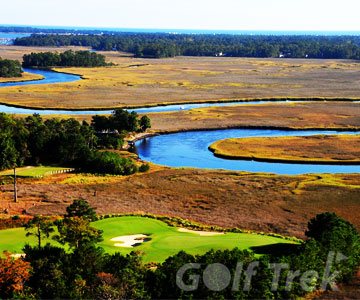 Carolina National is a 4.5 star rated Freddie Couples jewel. 5 tees to choose from on each of the 27 magnificent holes…135 tees so you can play; different tee shot from each tee. Each tee presents a different look for every skill level. The three nines are named for the native waterbirds that make the course their home…Egret, Heron and Ibis. Carolina National is recognized and certified as an Audubon Sanctuary. The course winds through low country marshes and by the Lockwood Folly River. 400-year-old majestic oaks, large waste bunkers and manicured undulating large greens await your challenge. All 3 9s are equal in the challenge so you'll want to pre-book a replay allowing you to attach 18 in the morning, grab some lunch and head back out to play the rest of the course. After your golf head for the superb 19th hole pub…dine inside or out on the porch.