Golf Trek can customize any Myrtle Beach Golf Package you desire. If you don't see EXACTLY what you are looking for, give us a call or request a quote. We'll personally tailor a package to meet your individual needs.
3 night minimum for most packages
Additional Nights and Rounds of may be added to your base package
We can customize any of our packages to suite your needs
Lodging based on double occupancy in hotels & quadruple occupancy in condos
Different properties are available as part of specials at different times of the year
All the above pricing is in United States Dollars (USD)
Other lodging options are available
Contact our Golfmasters for a quote on your desired courses and lodging
Better rates may be available with Afternoon Golf or Early Week Specials
Please see our Booking Procedures
Pricing may be higher during holiday and special events
Prices subject to change without
Choose Any Myrtle Beach Golf Course
Choose # day(s) you would like to play
Choose # number of golfers per day
Choose the preferred location of the golf
Choose the difficulty level of the golf course(s)
Golf Course Options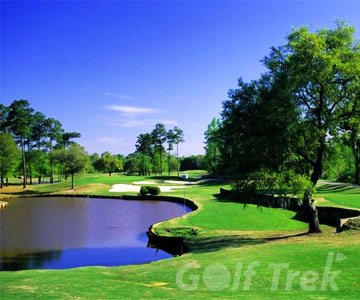 This 27-hole course is modeled after Scotland's Royal Aberdeen Golf Club. The three, 9-hole courses are modeled after traditional Scottish land features, The Woodlands, The Meadows and The Highlands, which make this course a must play. The wide combination of…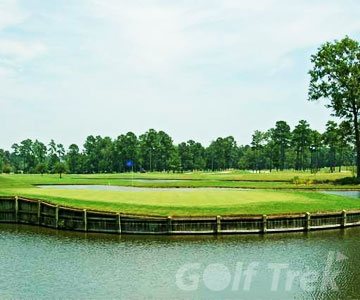 The International World Tour Golf Links gives you the opportunity to experience the thrill of playing 27 holes inspired by some of the World's most famous courses, including Pine Valley, Augusta National, TPC at Sawgrass, St. Andrews, Pinehurst #2, Oakmont, and Royal Melbourne to name a few. They are all there and more. Perhaps seeing these holes will provide you with memories of great shots you've seen in tournaments played around the world. You can travel the globe and spend a fortune in airfare, lodging, and greens fees or you can tee off and get a glimpse of the world from Myrtle Beach.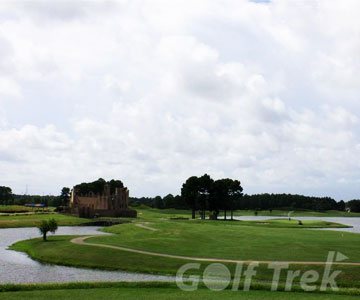 Move 800,000 cubic yards of dirt, build a destroyed castle as your clubhouse on a 100 acre lake, plant 800 species of grasses and plants, and have mounding as high as 45 feet above the fairways – you're at The Wizard! A uniquely different golf course. Superb, fast bent grass greens and 3 finishing holes over and around the 100 acre lake make for a challenging golf course. The par 71 plays to a mild 118 slope from the men's tees.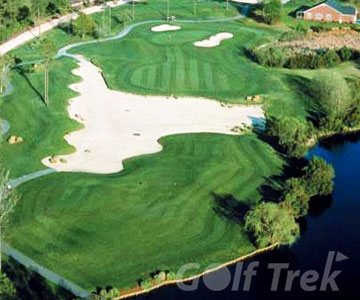 Willowbrook Plantation named one of the top 50 courses by Golf for Women, offers players of all levels a challenging round with beautiful scenery. This course takes you back in time to the late 1700's where it used to be a rice plantation, and believe us, the beauty has not been lost. Each hole offers a unique challenge making it the perfect course for your next golf weekend getaway.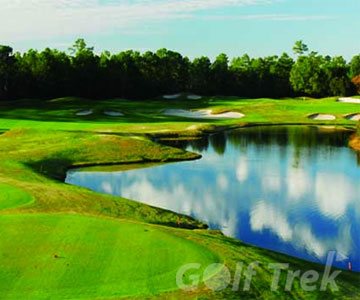 Your putter will be key in scoring well on these fast bent grass greens.? You can play just nine holes, play it twice to get in 18 or combine it with the Avocet course for 27 holes.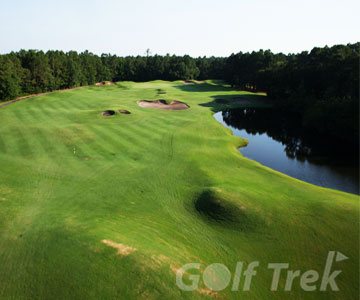 In the fall of 1993, Wild Wing introduced the Avocet. Designed as a signature course by Larry Nelson, two-time PGA Champion and 1983 US Open Winner, and Jeff Brauer, the Avocet is a course where each hole is memorable for its enjoyment, aesthetics and playability. All 18 holes are challenging, but fair tests of a player's skills. Creative contouring presents elevated tees and greens, double fairways, grass bunkers and even a double green two holes. Water plays a strategic role in the design of the Avocet and with all Par 5's and Par 3's orienting to different points on the compass, each season's prevailing winds come into play. Multiple tees on each hole offer endless and changing challenges. The Avocet was recognized by Golf Digest as one of "The Top 10 Best New Resort Courses in America," for 1994.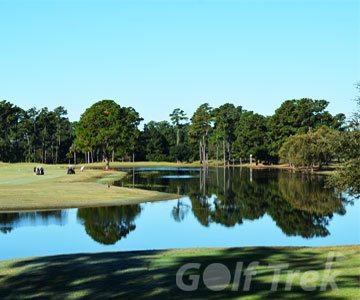 Located one-half mile from Ocean Boulevard (cool, ocean breezes), this Audubon Cooperative Sanctuary (only one of three in South Carolina) is nature preserved. Contrast that to the Sabre Jet over the putting green. This course is the old Myrtle Beach Air Force course that is now owned by the city of Myrtle Beach. The 16th hole is adjacent to the airport while the other fairways are pristine with no housing or out of bounds backyards…pure golf. The course was remodelled recently with new TifEagle greens. The teeth of the course is in the 5 par fours that measure over 390 yards from the white tees. The course is even tougher from 7 par 4's over 400 yards and a double sharp dogleg 567-yard par 5 from the blue tees.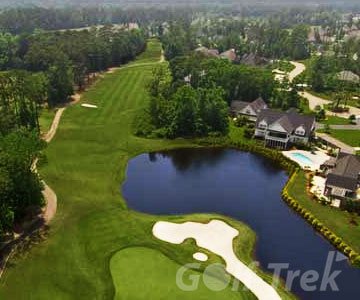 Wachesaw East, named Myrtle Beach's Golf Course of the year in 2007, is located in Murrells Inlet. With five different sets of tees, this course allows players of all handicaps to enjoy the round. Strategically placed bunkers and rolling fairways make the challenge unique and distinct. Wachesaw East hosted four televised tournaments from 1997-2000 which speaks volumes to beauty and professionalism.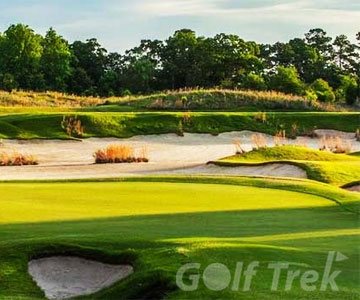 Top 10 … 4.5 Star Rated. A cross between Pinehurst # 2 and Pine Valley. This course is extremely challenging with a 145 slope. Lots of deep, deep traps… some double head high! Most of the par 3's are elevated with bunkers from tee to green. The first 4 holes will snap you into reality.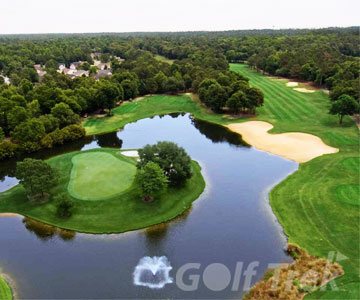 4.5 star rated and one of the Be$t Buy$ of Myrtle Beach. Located south of Myrtle Beach on U.S. 17. This is one of Golf Master Jim's favorite courses. Designed by Florida designer Ron Garl, It has the best of everything. Two island greens (a par 3 and a par 4), more sand than on most small deserts, (bring plenty of orange fluorescent balls) and 7 holes in the marshes. South Carolina's Course of the Year in 2001. The world class practice facility features a 43,000 square foot putting green and multilevel pitching and chipping areas. The Tradition is a Low Country Championship course with wide fairways and undulating greens. "HIT for the green" as in grass because if it isn't green, you're going to be in some of the largest, deepest waste bunkers in Myrtle Beach. Superb large upscale clubhouse.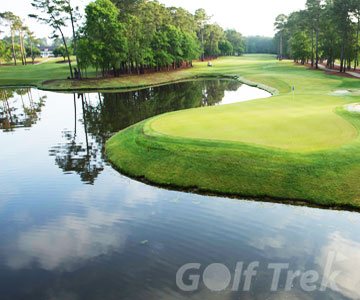 Walk in the footsteps of the PGA TOUR legends. Experience the crack of a well-struck tee shot as it echoes through the century old trees. Match your best shot against those of the players on the SENIOR PGA TOUR. Play tournament quality conditions year round. These are just a few of the many reasons you'll want to visit the Grand Strand's ultimate golf destination – the Tournament Players Club of Myrtle Beach. Designed by Tom Fazio in concert with Lanny Watkins (PGA Tour player consultant), the TPC of Myrtle Beach offers one of the most extraordinary golfing experiences on the east coast.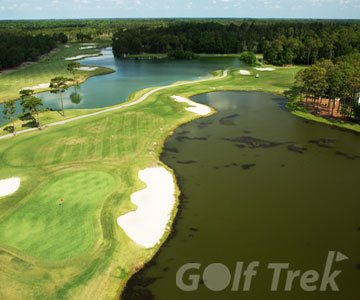 A stunning combination of natural waste areas, coquina fairway boulders, native grasses, wildflowers and elevation changes up to 60 feet make this a challenging layout. The new fast G2 bent grass undulating greens offer formidable opposition to the birdie you were hoping for. One of the top golf courses in North Carolina. A 4.5* gem. Many signature holes including an island green par 3 and the waterfall #18.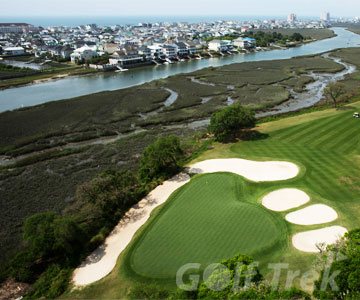 With its magnificent views of the Intracoastal Waterway, saltwater marshes and Atlantic Ocean…and undulating Tif eagle greens…Tidewater has been called as pure as the ocean breezes that blow across it. Ranked by Golf Digest as the "Best New Public Golf Course in America" when it opened in 1990, Tidewater continues to maintain a top ranking in Myrtle Beach. Golf Magazine has ranked Tidewater as one of the premier golf courses in the country every year since recognizing it as one of the top ten new golf courses built in 1990. Recently rated #39 in Golf Magazine's "Top 100 You Can Play" listing, Tidewater is committed to giving each guest a total golf experience only found at the highest echelon of golf courses. Top 10 … 4.5 Star Rated. Situated on a seaside Peninsula of bluffs, the course meanders back and forth along side the Intracoastal Waterway with views of the Atlantic Ocean. The course was renovated with new traps, tif eagle greens and additional landscaping.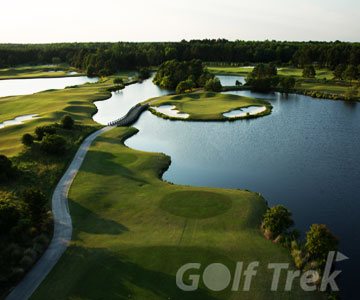 There is no other way to say it — Thistle is a "Superb" 4.5 star rated 27 hole Scottish Links course. Putt on smooth, fast undulating huge Bent grass greens. If you wander off the fairway you'll truly encounter Scotland at its best with lots of native grasses, heather and wild flowers. Pretty and challenging at the same time. The fairways are generous with lots of up and down hilly shots and mounds. You can bump and run most shots into the greens or fly them in to receptive greens. Not only are the course conditions superb but so is the course playability. Unique to the Myrtle Beach area, Thistle offers 12 minute tee times. That's the rule. By doing so, you enjoy a full hole open in front and behind you. A relaxed 4 hour round is the norm. It's like playing on your own country club. Ten tee times are blocked in the morning for a two hour period and the same is true in the afternoon. You may want to consider pre-booking an afternoon replay so you can experience the entire 27 hole layout. Exceptional conditioning and superb service along with complimentary range balls and yardage booklet exist to provide you with a truly enjoyable and memorable golf experience. There are 5 different tee boxes to choose from so you can definitely test your golfing skills at the Thistle.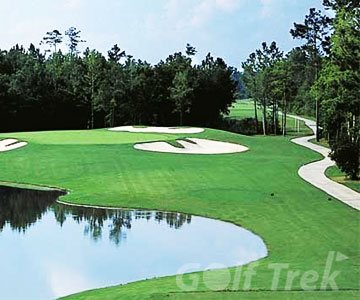 Shaftesbury Glen's unique concept combines a world class golf course with a fishing venue along the Waacamaw River. This course has been described as challenging, innovative and fun, making it a great course to play on your golf getaway. While this course is more traditional, with elevated greens, wide fairways and expansive traps, it is certainly worth the trip for the Olde English clubhouse.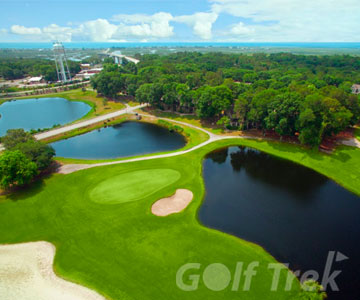 The Maples is a nice playable course. It has a separate clubhouse from Byrd and Jones course location. Heavily treed with giant oaks and hanging moss line the course. Some large tee to green waste bunkers…with…OOPs…trees in the bunkers. Medium well trapped undulating greens. Putting is key on this course with lots of subtle breaks. Don't miss the bar. Lot of bets have been settled over a tall cool one here.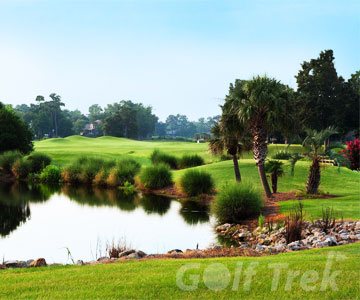 Plenty of mounding and large waste bunkers…typical Reese Jones. One of his better designs with wide fairways and average to large undulating greens. many of the greens are elevated with collection areas below. Chipping around the greens or blasting out of bunkers is at a premium here.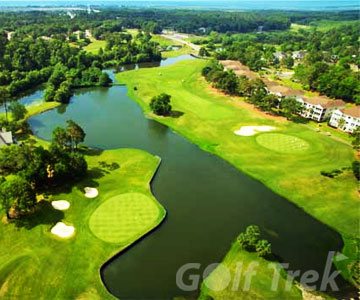 You'll remember the lakes and large undulating bent grass greens. Willard Byrd courses are known for their playability and you'll totally enjoy this course. Wide fairways, a touch of sand here and there, dogleg holes and roll it on pitch shots are all here. This 4 star rated gem is non-surcharge. Play all three Sea Trail courses at a very special rate. Nice clubhouse, 19th hole and excellent practice facilities.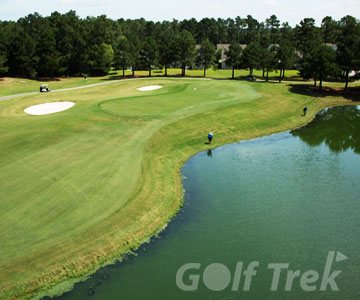 800 Sandpiper Bay Dr SW Sunset Beach, NC 28468
MapSatellite
Keyboard shortcuts map data ©2021 Google500 m Terms of Use Report a map error
Sandpiper Bay, known as one of the best groomed courses, is a four-star, 27-hole course. This newly renovated course is located just 20 minutes from Myrtle Beach in the community of Sunset Beach. The exceptional care for detail and quality is shown in the contoured fairways and natural bunkers, making Sandpiper Bay a must play.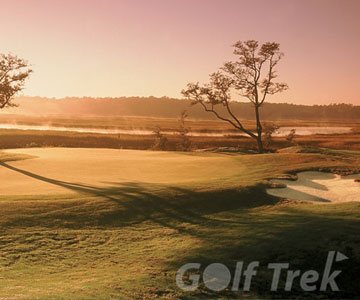 Arnold took a superb piece of land and built a superb golf course. 7 holes are on the Shallotte river and are very scenic with marsh grasses. This 4.5 star course is stunningly panoramic with dramatic elevation changes from bluffs to low lying marsh areas. Many of the holes have high risk… great chances for snowmen or eagles. A very challenging course and one of Arnold Palmer's best designs. A "must play" course for your golf lineup.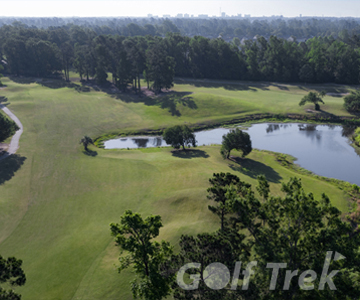 This 27 hole facility is centrally located at the juncture of US 501 West and the Intracoastal Waterway. The original 18 (the fox and otter nines) were built by Gene Hamm in 1988. The 'Bear 9' was added in 1991 by Tom Jackson. The course is on a former nature preserve and has many trees, mounding, bunkers and undulating greens.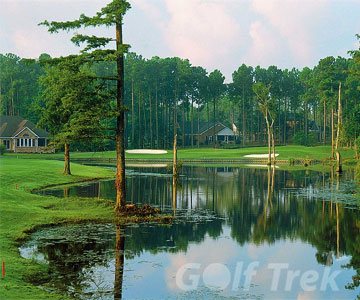 River Hills is a BE$T BUY$. It is the best non-surcharge course on the Grand Strand. It was nominated best new course in the U.S. in 1989 and selected as one of the "Top 50 in the Southeast" by Golf Week. A visually stunning course that has everything. Tom Jackson did a superb job in designing a "thinking man's course" where you have to plan and hit every shot in your bag. How about a 100-foot putt on a sloping fast Champions grass green? The front side meanders through a highland pine forest that is well trapped with fairway and waste bunkers. River Hills has 6 signature holes. On the front side #7 is a 527-yard par 5 down the hill with a double dog leg around large fairway bunkers and over water left and right of the fairway to an elevated well trapped sloping green. The back side literally has a river running through it that meanders from fairway and marshes around large cypress trees. Before, during and after your round you'll enjoy the large, spacious colonial style clubhouse. You also have a full service restaurant, pub area with large screen TV and private area seating or enjoy a tall one on the spacious back patio overlooking the course.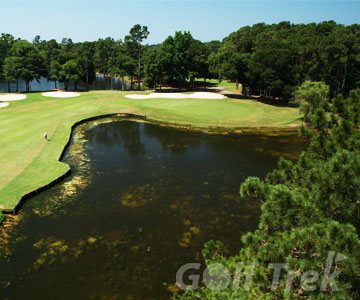 River Club is a semi-private facility and the only course on the south end of the Grand Strand with Bent grass greens. True to its name, you will find (but hopefully not often) water on 15 of the 18 holes. Couple the water with over 100 sand traps and you have a very challenging layout to deal with. Long hitters may find some room off the tees but the approach shots better be on the money. The par 5 18th hole offers risk and reward to those who can carry the water twice for a possible chance at eagle on the horseshoe shaped hole.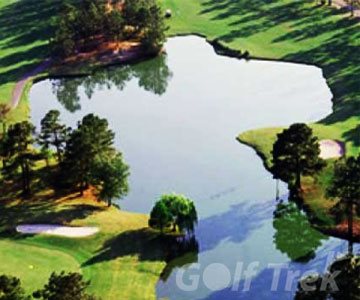 Formerly Quail Creek Golf Club
Owned and managed by Coastal Carolina University, this course is kept in great shape due to it's agronomy program. They recently replaced their greens with miniverde Bermuda, and they are ready for play.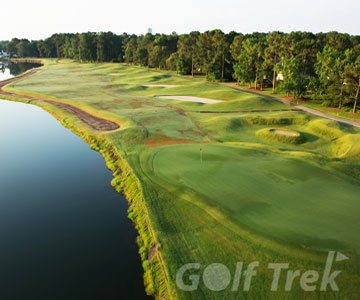 One of Pete Dye's better designed courses. Prestwick has received Golf Digest's? 4 1/2 star-rating for 2006. Unlike traditional Dye designs, it is not tricked up with severe greens. The terrain is a natural dune field with plenty of waste bunkers. The 9th and 18th holes are played around a 50 acre lake. The Scottish berns, deep pot bunkers and rolling greens will remind you of its namesake – The Prestwick Golf Club of Scotland. There are 6 tee boxes for your golf pleasure. The course is surrounded by thick groves of pines, giant oaks, bay trees and stands of natural dogwoods.˜ Prestwick has been awarded the Myrtle Beach 2006 Hospitality Golf Course of the Year award.˜ The upscale clubhouse overlooks the finishing holes. Excellent food and drinks. After playing this wonderful course, sit on the veranda, sip a few and watch your fellow golfers try to negotiate the closing holes.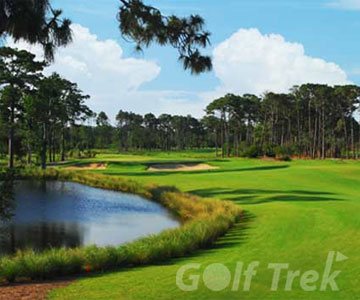 "The only time you will be permitted to handle your clubs is while playing with them." From the moment you arrive, each guest is treated like royalty. From the white-gloved caddy master who greets you at the gates, to the club assistants who clean your clubs and shine your shoes after your round, The "Granddaddy" takes great pride in its impeccable level of service. On warm, sunny days, you will be treated to a refreshing mimosa on the course. When the wind blows and there is a nip in the air, you can expect hot chocolate on the first tee and a cup of fresh homemade low-country clam chowder, prepared and served over an open fire from an old black kettle. We welcome you to play the Myrtle Beach's oldest course (1927) thus its nickname of the Granddaddy and see for yourself why it is so enjoyable to play this par 71 course. The golf course was constructed as a complement to the famed Ocean Forest Hotel and was to be a playground for the rich and famous. Upon the destruction of the hotel, the golf course at Pine Lakes was the only thing remaining. The course has been remodeled over the years and has evolved from the original 27-hole layout to an 18-hole course which is currently on the National Register of Historical Places. Pine Lakes Re opened in March 2009, as Craig Schreiner was contracted to redesign the course. His passion for golf and its architecture is a natural fit in maintaining the historical integrity associated with Robert White's original design.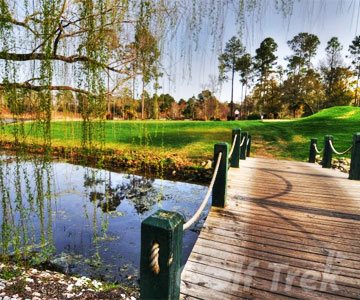 Built upon a 900-acre marsh preserve, The Pearl Golf Links features a 27-hole golf course that is ranked among the top courses in the Carolina's and have been nominated "Best New Public Courses in America" by Golf Digest. The course is a traditional layout, carved throughout the pristine forest with its dynamic finish along the Calabash River. Being one of the most sought after courses to play in the area, it is certain to be the highlight of your golfing visit to the Grand Strand!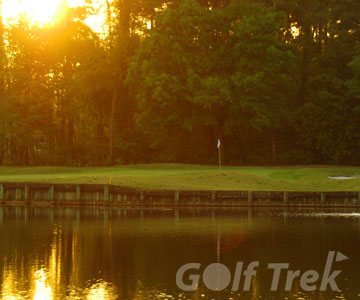 Challenging, but equally beautiful, Pawley's Plantation by Jack Nicklaus offers a scenic event with every round. Among the most unforgettable features are a tremendous double green, a dramatic split fairway, and breathtaking lake and marsh views. A 300 yard dike bulk-headed for cart traffic leads to a set of tees where the golfer can play the par 3 #13 from a distance of 40 to 145 yards – both shots are across the marsh. This signature course ranked among the top courses in South Carolina in Golf Digest's 1997 Rankings.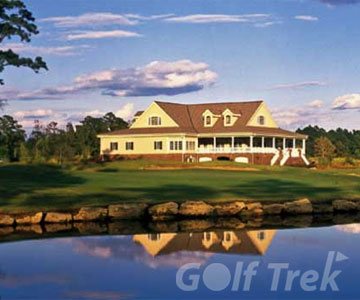 Nominated by Golf Digest as the best new course in 1996, Panthers Run has a variety of challenges. The front side is a Carolina Low Country style course with lots of water and marshes. The back side is more wide open and inspired by the ancient links of Scotland. The front is low lying whereas the back has dramatic elevation changes.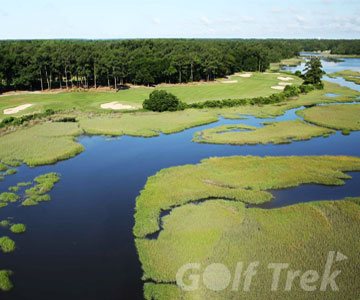 Ever played out of a 'dreaded' oyster shell bunker… Close your eyes and swing hard. Two island greens, ocean breezes and fast undulating greens make this course a real challenge. A superb 'Visual Delight.' It has been rated Golf Digest's 1983 Resort Course of the Year and has received a 4.5-star rating in Golf Digest's Places to Play publication. Many consider it to be a Top 10 Course in the Myrtle Beach area. Located 8 miles into North Carolina at Sunset Beach.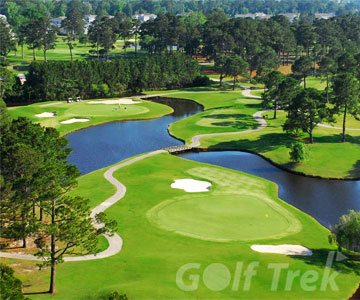 The Pine Hills course at Myrtlewood will challenge your short game with its smaller greens. It is a shotmakers course with sharp doglegs, numerous sand bunkers, and multi-tiered greens. Plain and simple, it is tight and tough. If you are not on your game, the strokes will add up fast.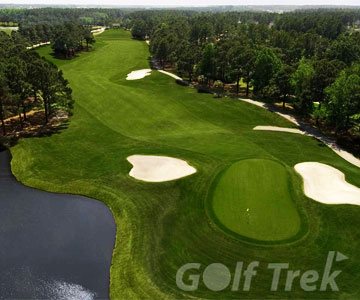 The Palmetto course at Myrtlewood is the newer of the two and one of the central beach classics. It is traditional in design. It offers wide fairways and large and it is well trapped. As you are wrapping up your round, the 18th hole runs along the intra-coastal waterway. Very picturesque to say the least. The Myrtlewood complex has an excellent practice facility for you to work out the kinks before you tee off.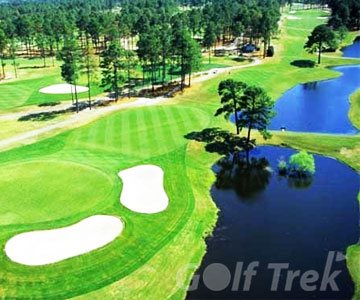 The West Course at the Myrtle Beach National complex is the longest yardage course from the tips of the 3 courses. You will find this course to be somewhat forgiving with its wide fairways and decent size greens. However, strategically placed bunkers, natural hazards and tall hardwood trees protecting the doglegs will make you think a bit before you try to rip one.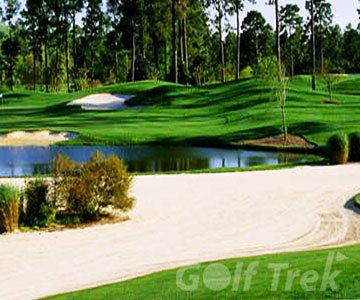 Southcreek is winds through a mix of coastal wetlands and hardwood forests. Of the three courses at the Myrtle Beach National complex, this is certainly the most target oriented golf course. At just over 6400 from the tips, it requires less distance but greater accuracy. Numerous waste areas and well-protected greens place a premium on course management and shot making ability.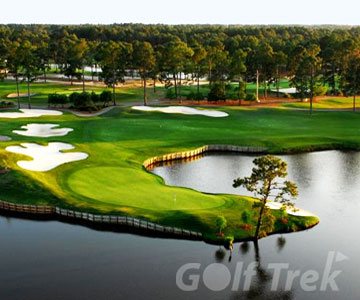 King's North is a result of redesign work done by Arnold Palmer and his group in 1996. Palmer recreated the North course by moving over 400,000 cubic yards of dirt, adding bulkheading, 600 hardwood trees and 7,000 azaleas to go along with the enlarged Crenshaw Bentgrass greens, lakes and bunkers. You will have plenty of water to consider as you navigate this layout. One of the most dramatic and unique holes in golf is the par 5 6th hole nicknamed "The Gambler". It features an island fairway which offers golfers a risk-reward short cut opportunity to the green for a chance at an eagle. You need two precise shots to benefit from the short cut otherwise danger lurks and your looking at perhaps a double bogey instead.
Water, water everywhere. When you look at the scorecard you'll see plenty of blue…… Starting with a marina clubhouse on stilts in a 80 acre lake. Actually, the lake winds through the course more to define holes than to be a hazard waiting to swallow your golf ball. The course offers two island greens (a par 3 and a par 4) and the 9th hole – fairway to green – is an island. An excellent test for your golf game.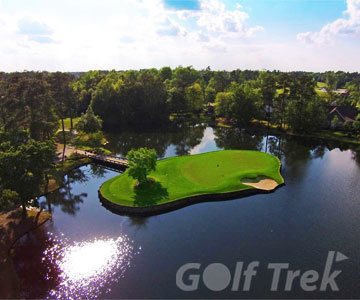 If a player can tame the Long Bay Club, he or she may feel confident enough to take on the Golden Bear as this Jack Nicklaus designed course is considered by many as one of the more difficult layouts on the Grand Strand. This links style course has countless large man-made mounds and can be quite a challenge near the green. Where did some of the dirt come from for the mounding? Why the numerous bottomless bunkers that surround the small Bermuda landing areas. One of the most recognizable holes in golf is the par 4 #10 hole with the striking horseshoe waste bunker that runs up to the green. Bring your A game.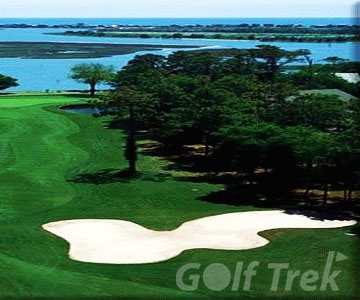 A seaside layout on the intracoastal waterway with prevailing ocean breezes. Better than average width fairways surrounded by live oaks, towering pines and dogwoods. #18 is the signature dog log right finishing hole prevailing ocean breeze blowing in your face. GolfMaster Hal had a hole in one on #11 in the Lockwood Appreciation Day Tournament. A 4 star rated gem.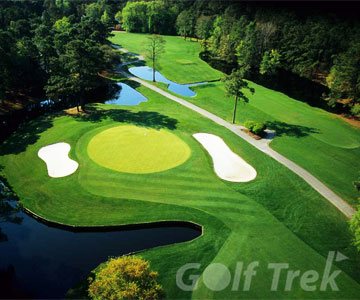 Litchfield Country Club was among the initial eight courses built on the Grand Strand (1966). It was also the first course built in the Pawleys Island/Litchfield area. Through the years, the course has maintained its original design of friendly green-side pathways for bump and run approach shots. The mature tree-lined fairways wind amid giant oaks and shimmering lakes from the original rice plantation that it was built on. If you like 'traditional' designed courses, you will find Litchfield to your liking.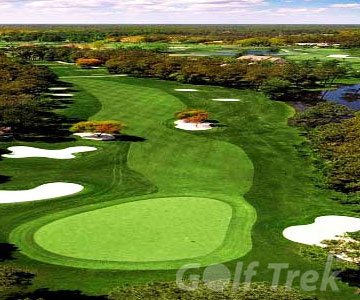 The course has Scottish links, low country marshes and highland pine trees. A widely different variety in just 18 holes. A very interesting course that you'll really enjoy playing. A thinking man's course so you need plan every shot.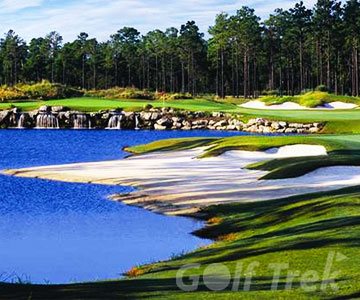 LEOPARD'S CHASE is the newest of the Big Cats family of courses. It opened for public play in February 2007. It is the premier course of the four Cats courses. This newest Cat has quickly received rave reviews for its challenging layout as designed by Tim Cate. This will soon be ranked as one of the must-play courses on the Grand Strand. Course management is the key when playing this highly regarded layout. You will find (hopefully not too often) large bunkers in just the right places. There is a lot of rolling hills feel and you will be tested with many forced carries. The 18th is a spectacular finishing hole. As you stand at the tee box, you will be faced with a 150-yard bunker on the right between the fairway and lake and a 50-yard bunker on the left between the fairway and another lake. Then, you will encounter a two-tiered pond and coquina shell-based waterfall on the short left side of the green as you approach.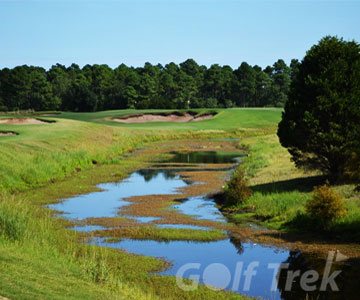 Unlike its sister courses at the Legends complex, Parkland has lots of marshes, trees, bunkers and undulating greens to make this par 72 a real challenge for your golf game. With its length and design challenges, most golfers feel this is the toughest course at Legends.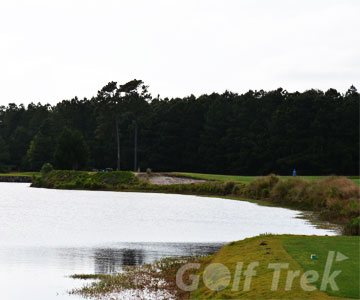 Want to test your accuracy? Your short game? Multi-tiered fairways, severe undulating elevated fast greens, collection areas and deep pot bunkers is what you'll remember. Not much water but plenty of waste bunkers line most of the fairways. If you have "game." put Moorland on your golf agenda.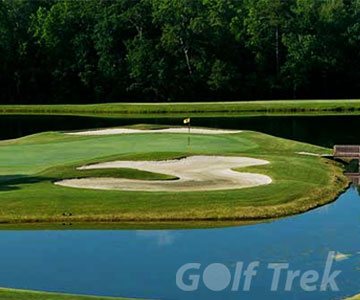 International Club is a beautiful tree-lined course that has rolling terrain with bits of marshland and crystal clear finger lakes. The greens are traditionally smooth rolling and true. The #11th hole is a par 3 island green signature hole. In GolfMaster Jim's opinion this is the best course that Williard Byrd has designed. Some narrow some wide fairways make you think what club to hit especially if you are not constantly straight down the middle. A new GPS system was installed to help you play your way around the course. Holes #9 and #18 are excellent par 5s to finish on.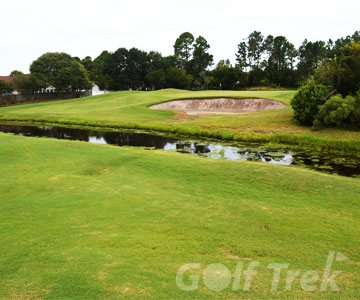 A par 71 links style layout. Born in the wonderful tradition of the British Isles links courses. There are a bare minimum of trees and some parallel fairways, Undulating greens and some fairway blind shots make this a fun course to play.
Grande Dunes Resort course is the FINEST Golf Course in Myrtle Beach. The maintenance is superb. 5 holes along the Intracoastal Waterway are on high buffs with ocean breezes blowing across the course. The Spanish style clubhouse is very upscale with excellent food and cold beverages in the lounge. The 19th hole is one of the best on the beach. The large practice area from a chipping and separate putting course. You can chose from 6 tees with yardage from 5,353 to 7,618. The greens are huge with some interesting undulations. Bring your "A" game.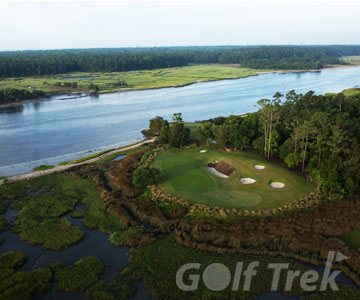 Glen Dornoch was uniquely built one hole at a time, which makes it one of the most talked-about courses in Myrtle Beach. Unlike most flat coastal golf courses, Glen Dornoch has several natural 35-foot elevation changes and a lush variety of oaks, pines and magnolias. While this course starts off tame, making it great for warming up, the last 3 holes will really put your game to the test. After your round, be sure to visit The Pub, offering homemade salads, sandwiches and delicious specials.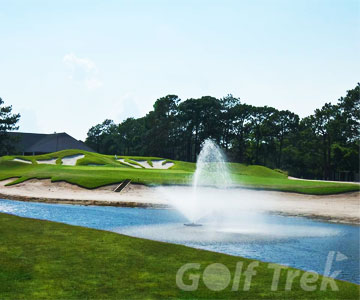 Introducing the newest golf course to open in the Myrtle Beach area – the Founders Club at Pawleys Island which was scheduled to open in late September 2007. However, Mother Nature didn't cooperate with sufficient rainfall in the area so the Classic Group made the decision to postpone its opening until February 1, 2008, to ensure the course is in great shape and it is. The Founders Club at Pawleys Island offers golfers an exciting opportunity in the Pawleys Island area to play 18 uniquely designed golf holes. Built on the former site of Sea Gulf Golf Club, Thomas Walker designed the course to offer wonderful visuals and isolated teeing areas thus giving golfers something special to remember. If you like split fairways, then you'll love the par-5, 540-yard No. 12. It used to be a par 4, but now, along with added length, comes added options and signature risk/reward possibilities. Take the long way down the right-side fairway, lay up short of the water with your second, hit a short iron over it and go for birdie on the new Emerald Bermuda greens. Or, mash it down the left side, shave about 30 yards off the distance in the process, and leave yourself with a long iron or fairway wood to the green for a potential eagle. Be warned, though: find the split in the fairway and you'll find treacherous pot bunkers or fly the green and find the drink. In either event, say good bye to your par and you could be looking in the eyes of a snowman. The back nine also features the par-4, 420-yard No. 14, a dogleg right which will reward a solid drive with a downhill roll but still leave a tricky approach to an elevated green; a short par-3 No. 16 (130 yards) that looks harder than it really is; and a finishing par 4 on 18 that plays 375 yards into the prevailing wind off the Atlantic, and leaves a challenging carry over water from the right but an intriguing approach from the left to a 130-foot-long, triple-tiered green nestled right behind the clubhouse. A new Low country-style clubhouse with a wrap-around porch awaits you for a relaxing drink and/or meal as you over looking the beauty of the 18th hole.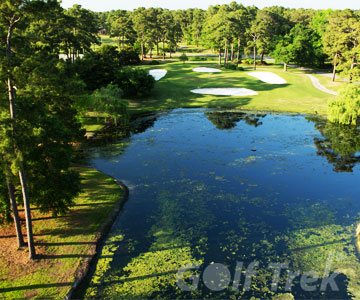 Gentle Rolling terrain, deep pine forest, undulating greens with challenging yardage gives Eagle Nest a Pinehurst flavor. The three finishing holes with a long par 4, long par 5, and an uphill, elevated par 3 were billed as the 3 toughest finishing holes on the Strand for many years. The certainly are still a challenge. The course and clubhouse have recently been remodeled. A spacious clubhouse with a well stocked pro shop and traditional fare at the Snack Bar await you.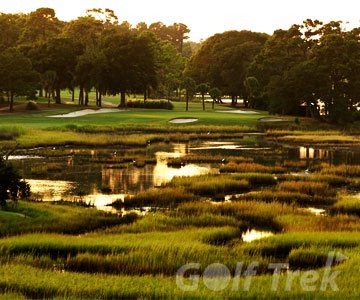 The Dunes Golf and Beach Glub, established in 1947, is a private golf club on 200+ acres. Dunes Golf Club features in "Top 100 Golf Course" pick magazines.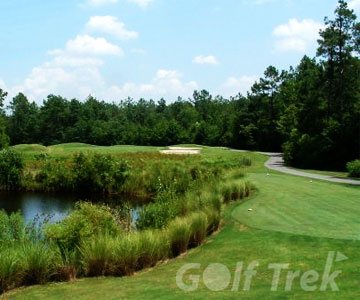 Diamondback at Woodland Valley, voted best new course in 2000, is a beautiful and well-manicured course. The intricate layout, with strategically placed bunkers and lakes, allow for a challenging, yet enjoyable round. Located just minutes from the beach, this course is a must play during your golf vacation in Myrtle Beach.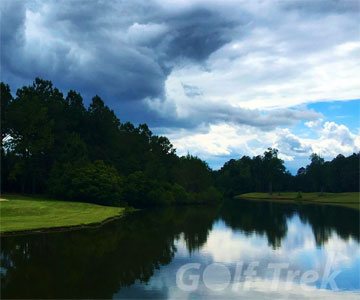 If Putting is your game then You'll Love Crow Creek. The L93 Bent grass greens are smooth, slick, and undulating. Sometimes the break is subtle, but you will enjoy the challenge. That's once you get to the greens. There are a lot of marshes, lakes, large waste bunkers, and sloping fairways to negotiate. The 500 acre layout has 2 distinct nines. The front nine was crafted from the existing fields and rolling meadows. The backside was routed through a pristine woodlands with lot of marshes and lakes. Wide fairways that are open tighten up to deep pine forest surrounded fairways.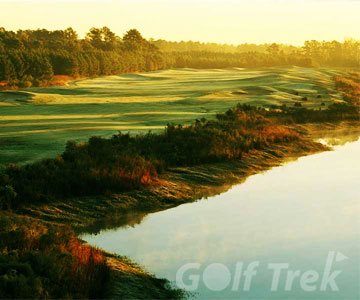 18 holes surrounded by deep pine forests awaits you at Crown Park. No homes, condos or backyards out of bounds to worry about. The fairways and bunkers are traditional in style and slope with the natural terrain. 8 holes have a variety of tall grasses and plenty of love grass. Crown Park's Tifeagle Bermuda greens average a generous 6,400 square feet. Most of the water on the course is ornamental and does not come into play. The large greens are the main challenge on the course. How about an 80 or 90 foot putt?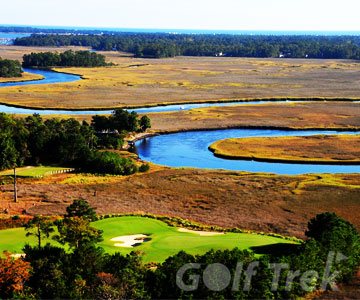 Carolina National is a 4.5 star rated Freddie Couples jewel. 5 tees to choose from on each of the 27 magnificent holes…135 tees so you can play; different tee shot from each tee. Each tee presents a different look for every skill level. The three nines are named for the native waterbirds that make the course their home…Egret, Heron and Ibis. Carolina National is recognized and certified as an Audubon Sanctuary. The course winds through low country marshes and by the Lockwood Folly River. 400-year-old majestic oaks, large waste bunkers and manicured undulating large greens await your challenge. All 3 9s are equal in the challenge so you'll want to pre-book a replay allowing you to attach 18 in the morning, grab some lunch and head back out to play the rest of the course. After your golf head for the superb 19th hole pub…dine inside or out on the porch.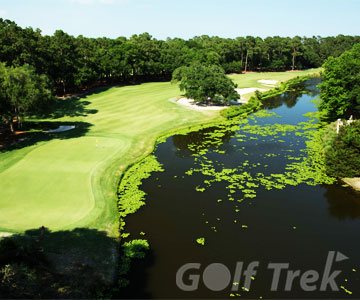 Caledonia is rated 4.5 stars and considered by many as the?Best Course in the Myrtle Beach area. This par 70 course provides a dazzling display of unique golf holes over marsh, lakes, waste bunkers and sand. This low country course is built upon a former rice plantation. Rated as one of the TOP 31 upscale courses in America! Caledonia is a truly unique experience and it is and incredible beauty. Tee Times are limited and this course books up fast. One of Golfmaster Jim's favorite courses.
Burning Ridge Golf Country Club Myrtle Beach, S.C.This pro style course is located just west of Myrtle Beach on U.S. 501 and Burning Ridge has been selected as the Myrtle Beach 2006 Golf Course of the Year. It features gently rolling fairways, towering pines, undulating greens and plenty of lakes. This course is a shot makers test built for tournament play. The biggest challenge here is that most of the greens are elevated with moderate undulations and plenty of green side bunkers. This course proves, "Its not how you drive… but how you arrive!"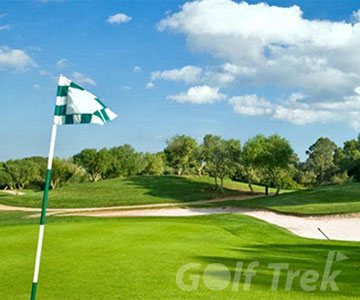 Some of the quickest Champion Bermuda grass greens on the strand. 27 holes with three different nines. The Magnolia 9 is primarily an open scottish links course with plenty of water and bunkers. The Dogwood 9 has wide fairways, elevated greens and deep bunkers. The Azalea 9 has plenty of water, an island green surrounded by oyster shells and wide fairways. Superb dining in a cool setting overlooking the putting green. An excellent day of golf. For a limited time get to play 27 holes for the Price of 18.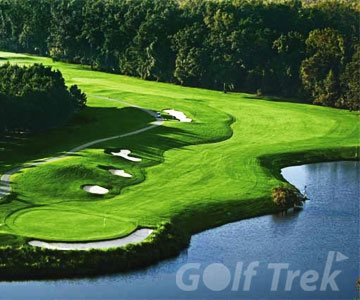 Blackmoor is located just south of Myrtle Beach in Murrells Inlet on S.C. Hwy 707.Wild turkeys, gators and deer can be seen on the course as you are in a pristine natural area. "Hit every shot in your bag" is Gary Players idea of how to play golf…and Blackmoor fits that description to a tee. Many challenging holes of risk and reward. Cut the dogleg and be on the green…fall short and you're in the marsh. Moderate undulating and average to large greens and plenty of greenside bunkers. Several holes have dual fairways. Some of the shorter holes are the most challenging as you have?to decide to "go for it" or lay back. This is a thinking man's course. Go brain dead and record a snowman. Most fairways are average in width with few fairway bunkers. 400 year old oaks and majestic pines border most of the fairways. Want to see the course, visit its website to see the area's only live course web cam!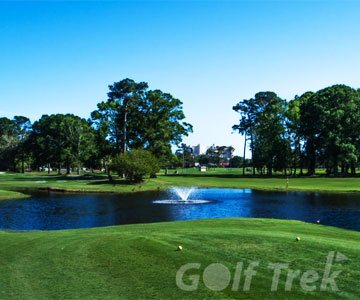 The Best beach style course at the Beach since it opened in 1968. Tall pines, little rough, large greens and wide fairways make this an excellent starter course to get used to beach conditions. Less than a 1/2 mile from the ocean means you'll get a good breeze most of the year. The signature hole is #18 par 3 over a lake. It's 239 yards from the championship tees. No matter which tee box you play from, you'll be playing directly east into an ocean breeze. Whoa Nellie! Double the bet…Anyone?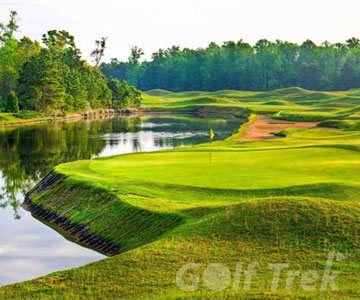 Greg Norman's newest design at Barefoot Resort is unique in many ways. With only 60 acres of mow-able grass existing on all 18 holes, Greg uses stunning waste areas and the site's natural vegetation to frame each hole. The course resembles one found in the deserts of the southwest, without the desert. The course also features several holes along the scenic Intracoastal Waterway. Norman has already achieved great reviews for his previous work and he is excited about his latest design stating "We have a fabulous piece of property with great elevations and the developer has spared no expenses to insure that this course is the absolute best it can be."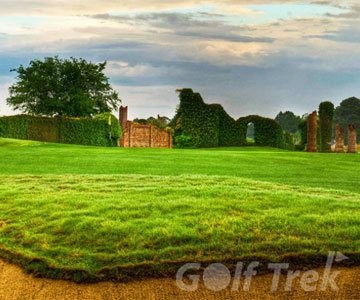 Carolina native and leading PGA TOUR professional Davis Love, III, may have solidified his reputation as a course designer with his newest creation at Barefoot Resort. Competing with other architects in the Barefoot Resort project such as Fazio, Norman and Dye, Davis was determined to build a course that was unique, visually striking and fun to play. The course even incorporates a replica of ruins from a 17th Century plantation house, similar to ruins found along holes in Scotland and Ireland. You will enjoy wide fairways and generous landing areas. However, don't get to relaxed as you will be hitting to tough, turtle back designed greens.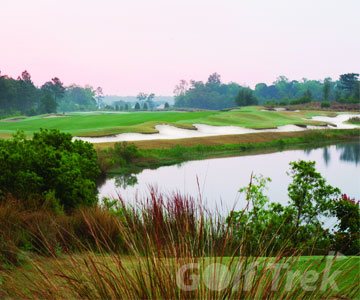 Tom Fazio brings his design expertise to a rolling parcel of land at the heart of Barefoot Resort. Golfweek Architecture Editor Brad Klein states that Fazio has "perfected a certain formula for creating overwhelming, lovely holes that are meticulously manicured and pleasant to play." Living up to such acclaim, Fazio's Barefoot Resort Course is certain to attract more national acclaim. Off the tees, players will be greeted with stunning visuals and 18 distinct holes that will all be remembered after your round. You will find the par 71 course to be fairly wide open with a good amount of sand in sight. The fairways are undulating. Since there is no turn after 9, make sure to stop the cart attendant for your beverage and food needs as you negotiate the course.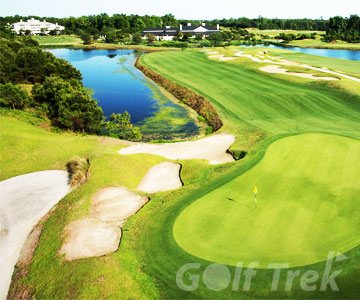 This course, designed by architect Pete Dye, certainly doesn't stray from his reputation of building memorable and challenging courses. The semi-private course is filled with pitfalls for wayward shots, native grass and exceptional elevations. Bordering the white sands of the Carolina Bays is what makes this course a great pick for your golf vacation in Myrtle Beach.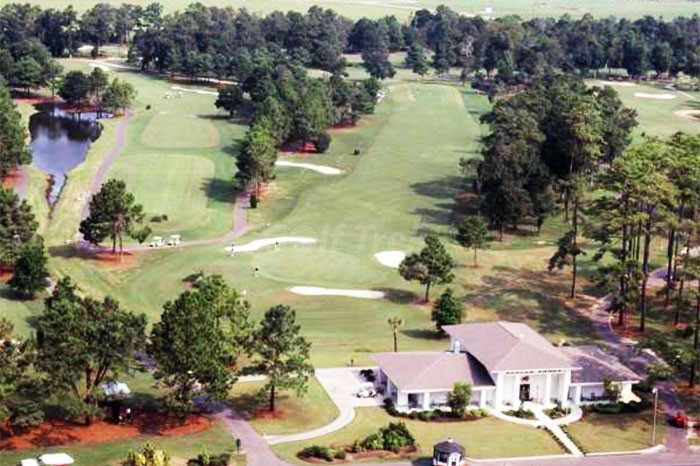 A well trapped course with a variety of fairway and green side bunkers. Azalea Sands is especially "user friendly" with NO homes, condos or backyards to impede the progress of your game. IT IS THE BEST BEACH COURSE ON THE GRAND STRAND. From the blue tees, the course plays a respectable 6,902 yards. Most of the greens are large and putting is the key to a good round here. The ocean is less than half a mile away so you normally get a good ocean breeze much of the game. A nice feature that allows for bump and run approach shots is that most of the greenside bunkers (NOT TRAPS) are on the sides and back of the greens. Watch out for the numerous large pampas grass plants that dot the fairway… You'll need a good chainsaw to extricate your ball from this snarly plant. Most of the pine tree berm areas surrounding the fairway have open shots to the fairways and greens with the absence of underbrush to spoil your shot making . The friendly staff and rangers make it a real pleasure in playing Azalea Sands. This is definitely GOLFMASTER Jim's favorite beach style course for over 25 years. The course is setup to challenge the skill level of every player. Azalea Sands is highly recommended as an excellent starter course to get used to beach conditions. Check out Golf Trek's super discount Afternoon Rounds starting $35.00 with cart included. New in 2015 15 inch cups. Try out the new trend and putting on the new larger style cups.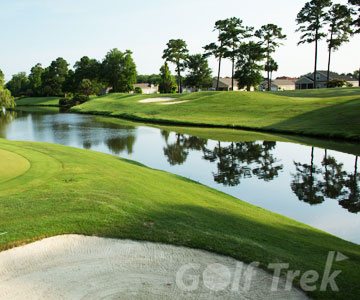 Raymond Floyd's 1st design runs along the Intracoastal Waterway and has plenty of water to contend with. Voted S.C. Best Course in 1998 by the S.C. Greenskeepers Association. The course is heavily treed with some waste bunkers and greenside traps. With 27 holes, each 9 is unique, featuring uncommon elevations and hardwood wetlands.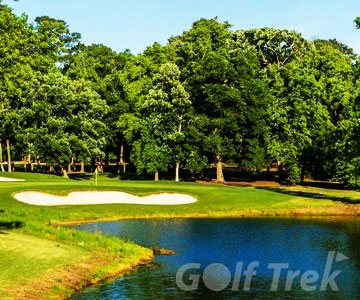 At Arcadian Shores Golf Club you can expect to be put to the test. With 64 creatively placed sand bunkers, natural lakes, and large Bermuda greens, this is certainly a course to remember. Although the course is a challenge, it is designed for all golfers alike with a selection of five tee boxes. Holes #2 and #18 were voted as a part of the Dream 18, making this course a must play.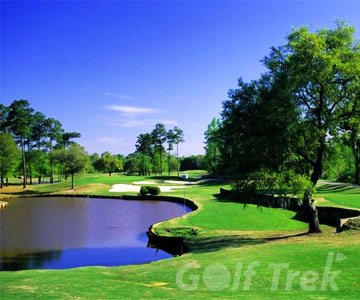 This 27-hole course is modeled after Scotland's Royal Aberdeen Golf Club. The three, 9-hole courses are modeled after traditional Scottish land features, The Woodlands, The Meadows and The Highlands, which make this course a must play. The wide combination of challenges make this golf course great for your next golf getaway in Myrtle Beach.